"I have not enjoyed a car book as much for a very long time. I consume car books… but I've never seen one that goes where this book goes… It's absolutely fascinating."
– Jon Faine
The Conversation Hour
ABC Radio
Paul Beranger appeared on this radio program with Jon Faine and two other guests on 28 June 2018.
Click here to listen to the full program (47 min 59 sec).
Alternatively, you can listen to just Paul's segment of the program by clicking here (15 min 18 sec).
---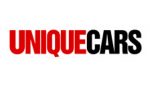 "If you love cars, put aside a few hours, because once you start reading it's impossible to put down."
Click here to download the full 3-page review of Crayon to CAD in UniqueCars Magazine (1 March 2018).
---
"A seriously complete and well researched history of Post-War Automotive Design in Australia."
(5-star Dean's Garage rating)
Click here to read the full review on the Dean's Garage website (18 May 2018).
---
"Sincere thanks for your magnificent service, the book arrived this morning and so beautifully packed.
And what a thrill to open the cover and discover a truly magnificent and precious book indeed!!!
A credit to all associated with its research, preparation and production. I have a multi-thousand volume library with over a thousand motoring books and this book indeed rates amongst the best in any of all my books in content and quality. Certainly amongst the very best.
I was long associated with the industry in South Australia, our family engineering business supplying GMH and Chrysler/Mitsubishi and their component suppliers for many decades with pneumatic and hydraulic automation equipment, and then later I owned a prepress business and so can look with awe upon your book.
Once again my sincere thanks and congratulations for a book that will be long treasured."
– Ross K, Mt Compass, SA, Australia
---
"I just finished reading your wonderful book Crayon to CAD.
As avid Australian Car- and Motorsports fan and subscriber (and sometimes small time contributor) to Australian Muscle Car, as soon as I saw this book being published, I ordered it without hesitation. This was two-fold. First, I knew the name Paul Beranger and his significance to the Australian car industry and couldn't imagine him putting his name on a mediocre publication. Second, as said, I'm very much interested in the Australian cars, which is very much an unknown over here in Europe. I hoped to find facts and stories I didn't know yet.
I thoroughly enjoyed the book and will reread it many times. The stories, the build-up and amazing pictures really live up to the promise. The biographies are placed strategically to enhance the story and I did enjoy the thought put into that. Thank you for putting this publishing together and give us amateurs an interesting insight to your industry. With the description of the various cars, I frequently used Google to look at the cars, to understand what's being told. This worked well for me."
– George Koopman
Wezep, The Netherlands
---
"The end of car making in Australia doesn't signify the end of locally designed vehicles – only that they will no longer be built in Elizabeth, Altona or Broadmeadows. Still, Paul Beranger saw this as the perfect moment to write the story of post-war Australian car design.
As an ex-designer (Holden, Nissan and Toyota), Beranger is ideally placed to write From Crayon to CAD: he understands the local design culture, knows many of people involved (when he started in 1964, Holden's first design boss Alf Payze still worked in the studio) and brings an expansive perspective to the wonderful stories he tells.
Covering not just Holden, Ford and Toyota in a decade-by-decade narrative, the book embraces BMC, Nissan, VW, Chrysler and even the gallant locals (Buckle, Bolwell et al) who attempted to build low volume sports cars. The book lists a staggering 700 names of creative design people involved in the industry and adds 23 biographies of the most interesting.
A huge task, brilliantly carried-off and illustrated, Beranger's book is a worthy tribute to the many immensely talented individuals who helped create Australia's unique motor industry and the impressive cars it produced.
I promise even the most knowledgeable will learn much: Ford Australia's 1990s Eagle program – an attractive, front wheel drive alternative to the AU Falcon – is revealed for the first time."
– Peter Robinson
Editor, Wheels Magazine,
1971 to mid-1987
---
"If there's only one book about Australian car design that you must have, this is it. Beautifully illustrated, and insightful stories from the leaders in auto design who influenced, and continue to influence, our automotive cultural roadmap. In Crayon To CAD, Paul has captured the very essence of Australian design ingenuity. As well, the behind-the-scenes stories of how some of our now iconic Australian-built cars were designed is riveting reading."
– Neil McDonald
Group Public Relations Manager
Honda Australia
---
"The book is well written with a great deal of fantastic, never before seen photos. The Australian impact on automotive design is significant, and the book captures that contribution. It was fun reading about the people that made up automotive design in Australia. Well done!"
– John Manoogian II
Adjunct Professor/Transportation Design
College for Creative Studies
Detroit, Michigan, USA
---
"What a beautiful book and what a tremendous achievement to get it to publication. The extent of background to car design and the insights into the companies and individuals featured and the processes involved are breathtaking."
– John H, Waitara, NSW, Australia
---
"I just took delivery of my copy of Crayon to CAD, and despite having high expectations I was overwhelmed at the magnitude and quality of the job you've done…
It's a book of the highest quality."
– David H, Stirling, South Australia
---
"So far I've only had a brief "skim read" and can only but wonder at the amount of time and effort that you have obviously put into the project to cover the subject history in such detail.
Congratulations – it is absolutely brilliant.
I'm certainly looking forward to sitting down and reading it through from cover to cover!"
– Kevin D, Fulham, South Australia
---
"Over 300 pages, what a massive effort, well done…
Your book is very timely, show casing the vast design talent that was part of the Australian car industry…"
– Peter M, Bowral, NSW, Australia
---
"I've just finished reading Crayon to CAD and would like to offer congratulations on a job well done.
At the end of Australia's car manufacture and assembly industry your book provides a timely look back at the little known story of Australia's own design, development and car manufacturing industry. An industry that is much older, more diverse and much broader than most readers would have thought.
An entertaining read with enough social comment to put design detail into context, some great images of successful and other not seen before projects, and an insight into the massive changes in materials and processes used to design a car. I am sure that motoring enthusiasts will enjoy the insight and those who were involved will have long forgotten memories stirred by all of the characters mentioned in the book.
Well written, well presented."
– Russell L, Montrose Victoria, Australia
---
"I've just finished reading Crayon to CAD. One word says it all for me – Brilliant. Congratulations on a great achievement."
– Dennis N, Brighton, South Australia
---
"A short note to say a big thank you, my signed and numbered edition of Crayon to CAD arrived today – great service!
I am delighted with the content covered and the high quality of this publication. As a member of the Ford Australia assembly team, (from 1970 to 1988) I recognise the importance of committing this part of the Australian car industry's stella performance history to record. To have it done in such a manner as befits his design cohort is not surprising.
I would like to thank Paul for researching and creating this masterpiece, and wish him commercial success and multiple reprints 🙂
– Ron C, Ballarat Victoria, Australia
---
"This is one of those must-have automotive books. So much information and behind the scenes stories and photos. Author Paul Beranger was in the styling studios when some of our most iconic cars were created."
– David B, Oyster Bay, NSW, Australia
---
"I just wanted to drop you a line to congratulate you on the design and layout… it has far exceeded my expectations. As a retired graphic designer and design manager of 42 years, I know only too well that compliments and credit for producing a good design are rare and that if they come at all, are usually accompanied by the slight taint of subjective criticism, effectively robbing it of value. Not so in this case, just a genuine 'great job' for a great result."
– James P, Altona Meadows, Victoria, Australia